SCI-FI CONTEST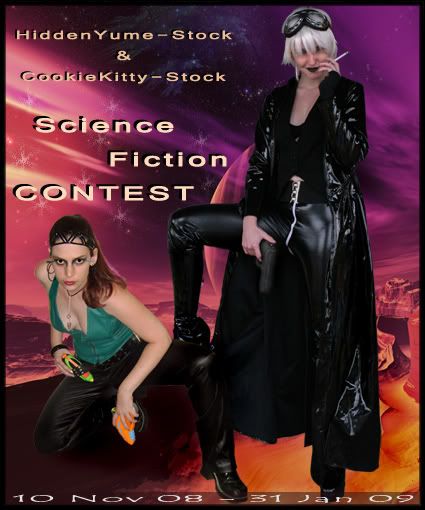 RULES
THEME:
Science-Fiction
DEADLINE:
31 January 2009
RULES:

Must be a newly submitted deviation

Must use at least 1
MODEL
stock image from both accounts - *
HiddenYume-stock
and ~
cookiekitty-stock

Only 2 entries per account allowed

Must be
OBVIOUSLY sci-fi
themed

Quality over quanity

You
MUST
</u> credit all stock and resources you use!

Any visual art medium (digital art, trad art) is allowed. After all, you need to use our stock VISUALLY - not in literature etc.

We have people asking what we consider Sci-Fi and how to tell it apart from fantasy. Its quite simple.
Sci-fi is Science Fiction.
Break those two words up.
Science. Fiction.
Robots, spaceships, cyborgs, artificial intelligence, aliens, space travel, The Jetsons...

Check Wiki for more details!
Any current entries that have slipped through will stay to be fair to the maker. From now on, we'll be stricter
HOW TO ENTER:

Send a note to both of us with a LINK to your entry.

Title the note 'Sci-Fi Contest' or something similar so we can tell it apart from other notes we receive.